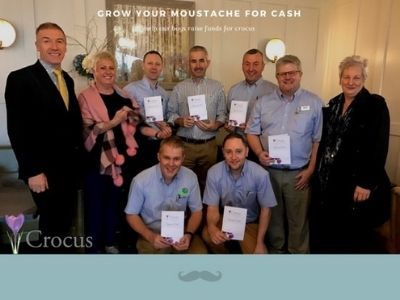 Together with the Westenra Arms Hotel and a few other companies in Monaghan, the Grahams of Monaghan men are helping to raise vital funds for Crocus.
Crocus is a peer support group for those men and women who are living with a cancer diagnosis in Monaghan Town.
Whether you are newly diagnosed or managing your cancer for some time, we are here to offer you the support that you need in a caring and confidential environment. Members can avail of the counselling services and also the complimentary therapies during their cancer treatment.
They will be growing out their beards for the month of November and taking part in a shave off at the end of the month. People can donate in store or email arlene@mgraham.ie for more information on how you can get involved.
"It is due to the ongoing fundraising by the generous people of Monaghan and the surrounding areas that enables us to continue to provide these vital support services." http://www.crocusmonaghan.ie/
Pictured:
Back from L – R
Frank McEneaney – Westenra Arms Hotel, Michelle Moffett, David Drum, Michael Fitzpatrick, Liam Ward, Shay Sweeney, Mary Callery
Front from L- R
Alastair Graham, William Graham