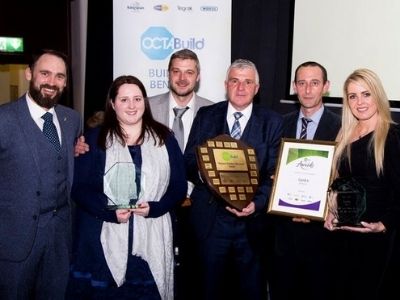 Octabuild crown Ganly's Athlone store as 2017 "Overall Builders Merchant Award Winner" in the same week as Expert Electrical confer the title "Store of the Year" on the family run Athlone store.
2017 is proving to be a fantastic year for Ganly's with their flagship store being – yet again – recognised as a nationally award winning shopping destination.
All roads led to the Guinness Storehouse, Dublin on May 11th, where the nation's leading builders' merchants and hardware companies were represented as they gathered for the biggest awards ceremony within the industry.
This ceremony saw Ganly's not only walk away with the Connacht/Ulster regional title, but also go on to win the overall National Award, for an unprecedented fourth time, beating incredible competition from almost 100 other builders' merchants throughout the country.
The previous week saw Michael Ganly collect.
Just a week prior to the Octabuild prize, the Expert Electrical department of Ganly's Athlone store received the highly sought after "Store of the Year" award from Expert Electrical at a ceremony held in The Heritage, Killenard.
"It's absolutely brilliant to have won not only one, but two, prestigious awards" said Michael Ganly "These nationally recognised awards are great recognition for not only all the hard work, dedication and expertise of our staff, but also of the range of products, prices and services available to our customers. We can honestly say that we offer the very best this country has to offer without the need to travel to Dublin for choice, price or service"
Michael went on to say "Naturally, we'll have a bit of a celebration to thank our staff for winning these awards for the store, and then we'll plan and hold one of the biggest sales events that Ganly's have ever held – my way of passing my thanks onto my very loyal customer base".
Established in 1989, Ganly's has come a long way from its 4 employee small hardware store to operating out of 3 stores in Athlone, Longford and Mountbellew.
Ganly's is now the largest independent builder supplier in the midlands, with their trade counter and yard catering for tradespeople from all corners of the country. Expert staff is on hand for anyone that needs help and advice.