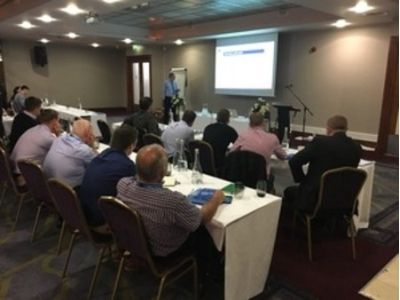 Allied Merchants Buying Association welcomed David Venter to Galway to deliver an Executive programme on Negotiation in partnership with Trinity College Dublin.
Professor David Venter has more than 30 years of hands-on experience in teaching negotiation in Africa, Europe and Asia, and in consulting to national and multinational companies. His work in the corporate sector has been focused on establishing negotiation capabilities and competencies at both individual and organizational level.
In addition to practicing psychology for 15 years, he spent 10 years during the South African transition from apartheid to democracy, serving in the Mandela administration as Director-General of Communication for South Africa. David has taught negotiation to MBAs in Belgium, the Netherlands, Russia, China, and in Africa.
For the past five years he has also taught a highly ranked course for Trinity College MBAs. Prof Venter is highly recognized internationally as a foremost authority on principled, value maximizing negotiation.
During this course, members were immersed in interactive presentations and case studies which focused on establishing the corner posts of principled, integrative and value maximizing negotiation.
The course had a strong emphasis on crafting mutually beneficial, nonmanipulative and sustainable deals that are premised on universal principles of human behaviour, creativity and innovation.
In Allied Merchants Buying Association we want to partner with suppliers to deliver not only a "WIN WIN" but rather a "WIN MORE WIN MORE" for both parties, therefore we look to strategically negotiate and partner with suppliers that share our vision.
The most important element of our future will be our relationship with our suppliers. We are established by the members for the members and operate with the cooperation and support of our supplier partners. We want to sell more of our supplier's product through our branches and we need to work together to do so.
Congratulations to everyone who completed the course and received an executive certificate in Negotiation from Trinity College Dublin. Our sincere thanks to David Venter for delivering an exceptional course and we all truly enjoyed his company throughout the week.